'A Lover's Guide to Football Shirts' Written by Neal Heard
Published by 'A Lovers Guide Publishing' 2016
This was again a Charity Shop find and what a find. Neal Heard has put together a book about football shirts that was 25 years in the making in his head. He had intended to write a book about the development and history of football shirts back to footballs inception but it has turned out to be his personal view of a subject he feels passionate about. It starts in the mid 1960's when he explains that the viewing of football became a worldwide phenonium due to more televised games even if some were in black and white.
It is fascinating how the sports brands took over football shirts and tried for domination through changing styles, designs and the use of their own name and logo's to further this cause. From the clubs getting income from the shirt brands came the bigger income stream of sponsorship on shirts. Football shirts have also been used to push political allegiances but the thing that came through to me was the designs that represented the times in which they were worn. Some have become iconic and hugely collectable and Neal points out that this is sometimes not due to the shirt but a specific game, season or individual.
Neal has also written a new book on shirts in 2017 and had previously published 'Trainers' in 2003.
Neal is perhaps one of the most knowledgeable people on football design and culture and is best described by himself on his Twitter feed.
"Brand Consultant – Pop Culture Historian – Author of: Trainers' & 'The Football Shirts Book – A Connoisseurs Guide' – I'm not as boring as I make myself sound."
To pick the best ever football shirts is all very subjective and everyone will have their own favourites often on partisan lines depending on who they support. The book made me think what my three favourites are and I have chosen the following.
No.1 Juventus
I perhaps should have chosen Real Madrid's all white strip of the 1960's but to me the Juventus strip was top. This non branded, non logoed shirt states that they are Italian and the vertical stripes gave their players stature that reflected their no nonsense style of play. To me this says we are who we are.
No2 Huddersfield Town FC away kit !991/92
Huddersfield Town 1991/92 away strip is in Neal's book. It just says to me flair, different, lets just be fun. Also worn in Disco's of the time.
No 3 Aston Villa home and away kit 1993/94
Excuse me an indulgence in picking a season for my third choice Aston Villa's 1993/94 season of which the black red and green one was my favourite. The claret and blue one will be remembered for Villa's 3-1 League cup final win over Manchester United and the amazing semi final two legged 4-4 draw and a victory through penalties. The Villa fans at Wembley were in good spirits and put their more fancied rivals in the shade, this was brought to a higher level when they noticed Gary Shaw sitting amongst them just two rows down from me. As Gary Gary Shaw rang out he stood and waved to his adoring fans and all seemed good. Villa never looked back as the silky smooth Dalian Atkinson loped through on the right for the lead.
For me the most memorable part of the game was with the final whistle a bunch of jubilant fans went off on a Conga but with my ten year old son on one of their shoulders. My fear of how I would explain that I had lost her son to my separated wife was banished when in great spirits they returned him some minutes later.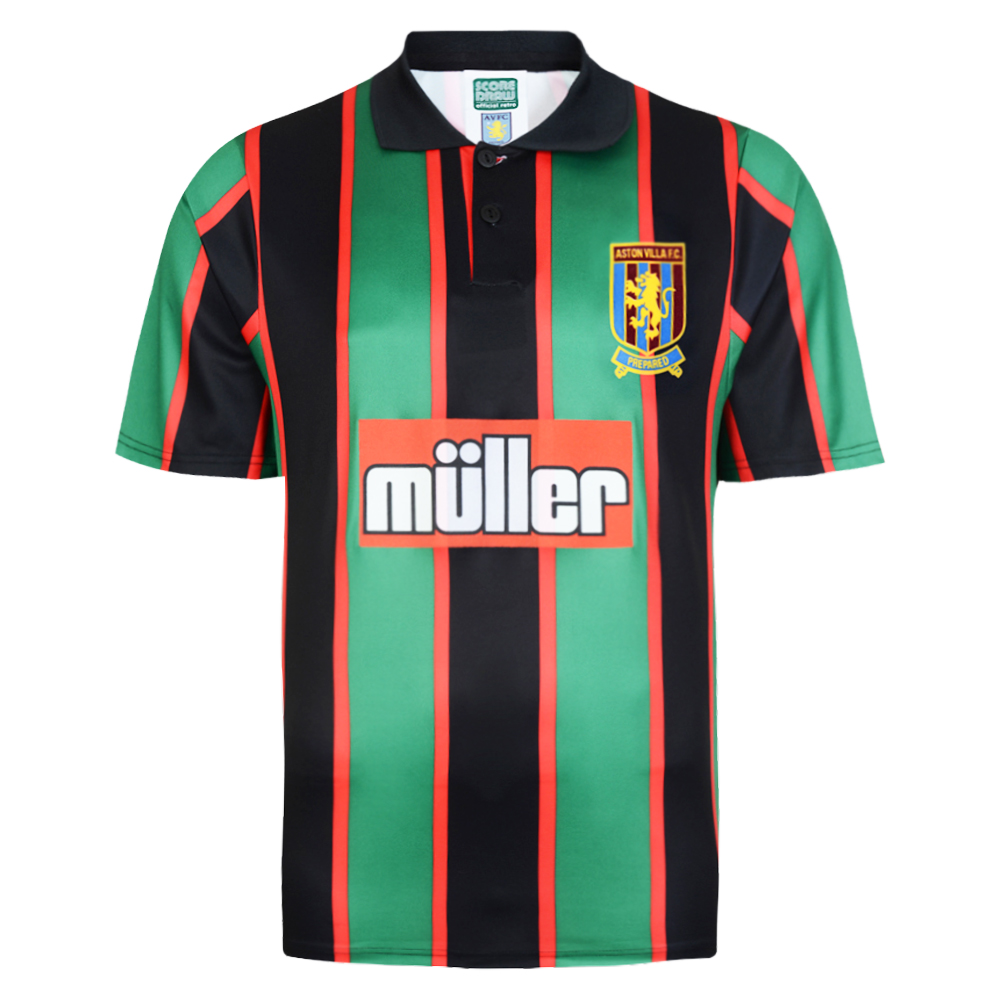 Great book Neal, great memories.